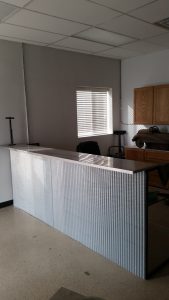 30-plus years of experience have put a lot of different metals in our hands. They've given us an opportunity to learn from our customer base, and expand on the services we provide.
Individual consumers, small-scale shops, and major manufacturers have all come to rely on our diverse collection of services. Big jobs and small jobs alike, Beal's Sheet Metal consistently partners with Commercial, Industrial, and Residential-based clients. We work with business owners and engineers on remodels and new construction sites. We fabricate cost-effective HVAC systems, large-scale manufacturing, and almost anything in-between. Essentially, if it's made of metal, we can make it happen for you.
Our commitment to serving customers and projects of all types and sizes requires an impressive inventory of differing metals. We keep our shelves fully-stocked with aluminum, stainless steel, black iron, perforated and galvanized material, various steel tubing, and much more. At any time, we're prepared to cut, shape, and form our stocked metals to fit your project specifications.
Our sheet metal craftsmen navigate two well-kept facilities, and are skilled with some of the best equipment in the business. Multiple press-brakes, a heavy-gauge shear that can handle 1/4-inch thick steel, and an automated Plasma Lay-out Table help us cut, punch and bend an assortment of different metals. At Beal's we enjoy solving problems, and breathing life into our customers' imaginations. In addition to developing custom metal solutions, we're prepared to deliver finished products to your job site, and complete installation.